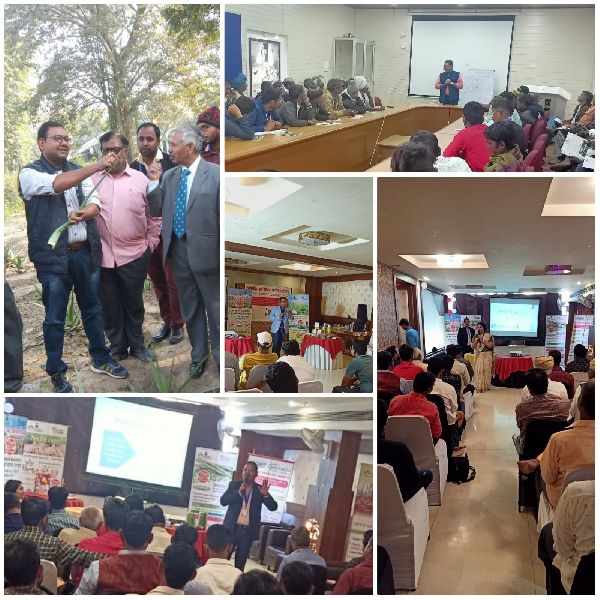 Organic and Medicinal CultivationTraining
THE COMPLETE SOLUTION AGRICULTURE BY WORKSHOP
India's Agriculture sector contributes to 16% of its GDP and provides 50% employment. However, this sector is still ignored by most of the educated people because of sheer lack of Technical knowledge.
Amritanjali aims to bridge this gap between the educated people and agriculture sector. We will provide you an Extensive Training Program to answer all your queries regarding better Agricultural Practices. Be part of this 1Day Comprehensive Training program which provides Technical and Practical Know- How on the Plantation, Cultivation, Harvesting and Processing of Aloe Vera, Stevia and Other Medicinal Herbs.
What we include in workshop?
Theoretical and Technical Details about soil and water testing, Subsidies provided by the Government, Harvesting and Maintenance Procedures for various Medicinal herbs like Aloe, Stevia, Lemon-grass, Satavar etc. We describe about the various Processing Procedures for Medicinal Herbs,initial cost and returns & various marketing strategies. Guest Lectures by Ayurvedic Doctors on the uses, cultivation, harvesting and maintenance of Medicinal Herbs. Practical demonstration of Various Medicinal Herbs like Aloe Vera, Stevia, Lemon Grass, Palmarosa, Satavar, Neem, Tulsi, etc. We also aim to inputs knowledge on organic farming & organic fertilizers (vermi-composting), Company Buy-back agreement and answer your queries on better Agricultural practices.
MEDICINAL AND ORGANIC FARMING CULTIVATION TRAINING
There is a huge demand for Medicinal plants products in various industries Like Pharmaceuticals, Cosmetics, Health etc According to our old Ayurvedic knowledge the most important treasures we have are our medicinal plants. There is no side effect reported as far and also they are available at low cost. Hence demand in the market is high from manufacturing industries. In this training module we provide training of cultivation as well as live demonstration to increase participant's business aspects.
Jobs prospects:
This is a self employment giving program as its need is increasing rapidly. Because of medicinal value, the medicinal plant cultivation is in highly demand in national and international markets. Our expert faculty has full knowledge about medicinal plant cultivation FROM Sowing to Harvesting, Marketing and Setting up Small Processing Units. Due to medicinal farming the small farms holders have a big opportunity to become Agri-Entrepreneurs, Agri tourism.
Scientific Research proves that medicinal plant cultivation practices can:
Human health
No side effects
Long effects
Cheap/ affordable to common people.
What Happens in the medicinal Certificate Course
The Medicinal Plant Cultivation Certificate training course is a program with live demonstration at our Organic Farm. We provide a guide book from which trainees will know all about organic farming practices.
This Medicinal Plant Cultivation Certificate training course has a 1 DAY schedule.
With proper network of buyers with us, we are able to provide returns of the farmers/cultivators who purchase the planting material from us and do farming as per our instructions. The crop/crops under buy back agreement are provided with targeted requirements. We are making farming a business which gives assured profits.
Persons interested in farming with training and complete solutions for agriculture will be entertained only on prior appointment basis. +91-9799931200